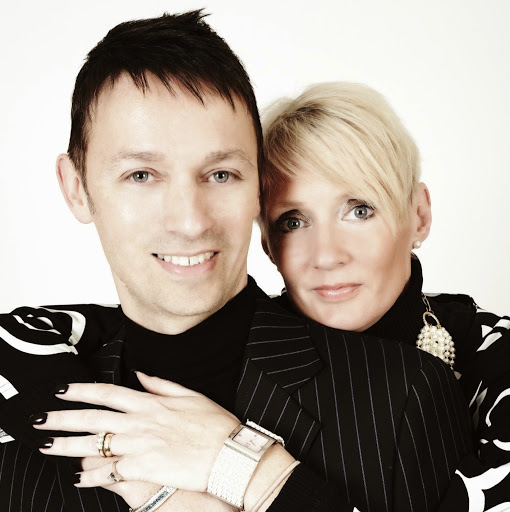 The Zig Zag Dance Factory was established in 1994
by the Internationally famous dance partnership & award-winners
Warren Bullock & Jane Phillips
MBATD MUKAPTD BB LA WDDSC BDC
After a lifetime of representing the UK in all major competitons around the globe and featuring in numerous British, European and World finals, in 1997 they retired from professional competitions to primarily concentrate on teaching, which today, is still their first love and priority.
They are greatly in demand as coaches and for adjudicating and lecturing.  Additionally, their Cruise & Dance Holidays continue to attract dancers from all over the world where Warren and Jane host fabulous workshops on world class cruise ships.
India
India is our Ballroom specialist and one of the stars of our reality TV show 'Baby Ballroom'. She has been dancing competitively  since she was 4 years old, so has many years of experience which make her a fabulous teacher. India is extremely talented and is the UK's Ballroom Champion – that title really speaks for itself. She is also one of Warren and Jane's triplet daughters so has dancing in her blood.
India is available for private lessons at our Wolverhampton studio and she also teaches her own Fitsteps class (see our class timetable for more details).
Alicia
Alicia is our Latin specialist and one of the stars of our reality TV show 'Baby Ballroom'. Alicia is extremely talented and has been dancing competitively with great success since she was 4 years old. She has achieved the title of UK Latin Champion. Alicia is one of Warren and Jane's triplet daughters so has dancing in her blood.
Alicia teaches at our dance studio in Wolverhampton and is available for private lessons.
Judy Lane – Personal Assistant (PA)

Judy is PA to Warren and Jane and is the friendly voice of Zig Zag on the phone.  She helps with office administration and the day to day running of the company.  She usually works Monday, Wednesday and Friday from 12.00 noon to 7.30pm.
Shirley Johnson AUKAPTD BB LA
Who, with her previous dancing partner, completely dominated the Senior competitive field in the Midlands, becoming the undefeated City of Birmingham Champions, Worcester and Hereford Champions and the Midlands Champions.
They became British Team members and have represented the nation in Holland, Yugoslavia, Italy, Spain, Monaco, and Monte Carlo, and have been finalists in the world's premier competition, the British Championships.
On retiring from the competitive field, Shirley qualified with the United Kingdom Alliance of Professional Teachers of Dancing and is now one of the most popular managers of a branch of the successful Zig Zag Dance Factory, teaching a variety of Ballroom, Latin American, Salsa, Disco, Rock' n Roll classes to both social and competitive dancers.
Mary Phillips

Mary can be seen at many of the Zig Zag Dance classes and social events is always on hand to make you welcome and give some extra help .   Mary also teaches some of the children's beginner classes and is particularly loved by our youngest members . Her sense of humour and friendly personality is invaluable to the school.
Sharon Lewis & Neil Skeldon

Sharon and Neil are winners at Stars of the Future and Champions of Tomorrow and also assist at the classes, social events and help with the Formation Teams and bring their own unique energy to the classes.
Tony & Joyce Bridgewood
Tony & Joyce have been with the Zig Zag family for many years and are always available to lend a friendly hand at the classes and social events where they are a valuable asset to the team.
Competitive Coaches
George Coad & Pat Thompson

George and Pat are former 3 times British Amateur Champions and are one of the most famous icon names in Ballroom Dancing today.We have been privileged to have George and Pat teach at our studio on many occasions passing on their wonderful knowledge and expertise where they are frequent guest teachers.
Alex & Lisa Ivanets
Alex and Lisa are the reigning United Kingdom Professional Latin American champions and are the UK's representatives in the European and World Professional Championships.  Based in Southampton, they are frequent visitors to our studios where we are delighted to have them help guide our dancers to becoming the countries best.
Lyn Marriner 

Lyn is the former World Professional Ballroom Champion.  Based in Asia for many months of the year, we are always delighted to have her drop in and pass on her expertise to our competitors whenever we can get her.
Michael Wentink
Michael is a former World Amateur Latin Champion and occasional drops into Zig Zag on some of his many pit stops around the world to teach for us. Originally from South Africa, he is in demand all over the world as a premium coach and innovator.
Anton Sboev & Patrizia Raniz

Anton and Patrizia hail from Poland and Russia originally but are now based in London.  Widely known as one of the fastest rising Professional Latin couples in  the world, they have already notched up some impressive results including being runners up in the British Open Professional Rising Stars and being quarter finalists in all of the worlds main competitions.  Their precision and dramatic choreography is an inspiration to our pupils.
Richard Still and Morgan Hemphill

Richard and Morgan are 4 times United Kingdom 10 dance champions and were a partnership formed at Zig Zag.  Morgan started originally in our beginners classes at Sutton Coldfield, they have now gone to be in demand as teachers and demonstrators all over the world when not at Zig Zag where they bring their own sparkle!
Carole Smythe
Carole is an International adjudicator and high level competitive coach who's input we are delighted to have whenever she can fit us into her busy schedule.
Andrey Surbu & Alexandra Hixon

Andrey (originally from Moldovia) and Alexandra (from Bournemouth) are currently one of the UK's leading Amateur Ballroom stars and compete all over the world representing the UK.  Known for their artistry and musicality, we absolutely love having them visit our studios to work their magic.
All of these valuable team members either teach, assist or partner at many of the Zig Zag Dance Factory adult and children's classes throughout the Midlands. Many of them are also available for private lessons.
Class Assistants
Tony & Joyce Bridgewood
Elaine Jones
Claire Service
Aimee Jones
Barbara Quinn
Kim Johns
Judy Cree
Katie Walton
Katie Wallis
Lily Mae Pearson
Due to BDC & EADA rulings regarding competitors, please note that some of the people mentioned in the sections above are not teachers but attend classes on a voluntary basis to partner pupils without partners.
Get in touch with our team members today and see how we can help you.